Please read the License Agreement before installing and using the indicators.
Getting Started
Thank you once again for your purchase of the Quantum Trading Indicators and welcome to Quantum Trading. We really appreciate your business and if you do have any questions please just email us at helpdesk[@]quantumtrading.com and one of our support team will be happy to help you further.
Below are the simple steps you need to take to get started in installing and activating your indicators.
Step 1 – Send us your unique Machine ID
NOTE: If you are a customer of Quantum Trading and have already sent us your Machine ID from a previous NinjaTrader order, please skip Step 1 and proceed to Step 2 of this guide.
All our indicators are licensed and enabled using a unique number called a Machine ID. This is a number generated by your NinjaTrader platform, and unique to your pc or laptop. In order to activate your licence on the NinjaTrader servers, we will need this number from you first, in order to create your licence on our system. This number is very easy to find as follows :
Open your NinjaTrader platform and left click on the Help option from the top level navigation.  This will open the following drop down menu: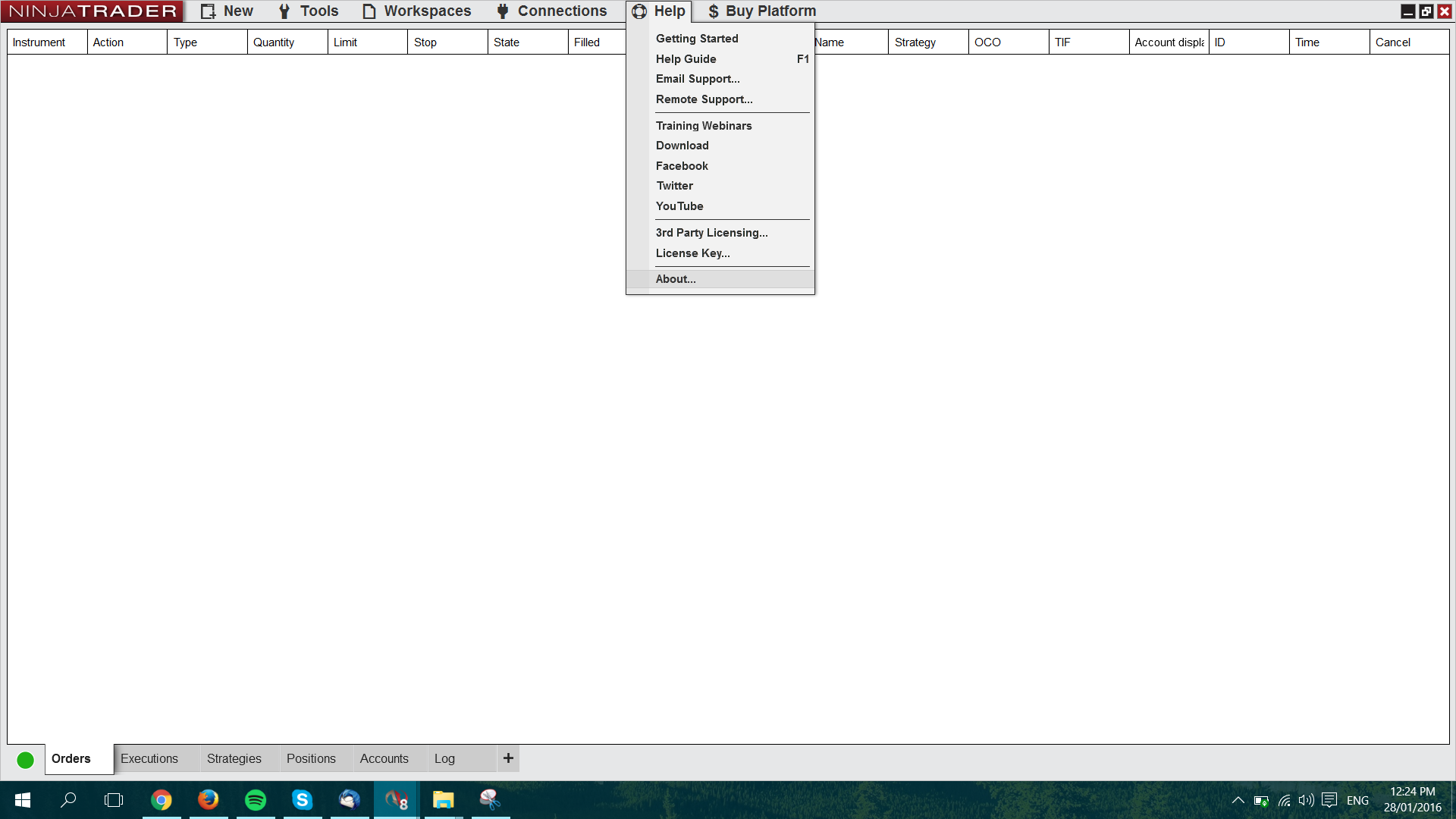 Scroll down to the About option and left click. This will then open the following window which has the Machine ID as shown below: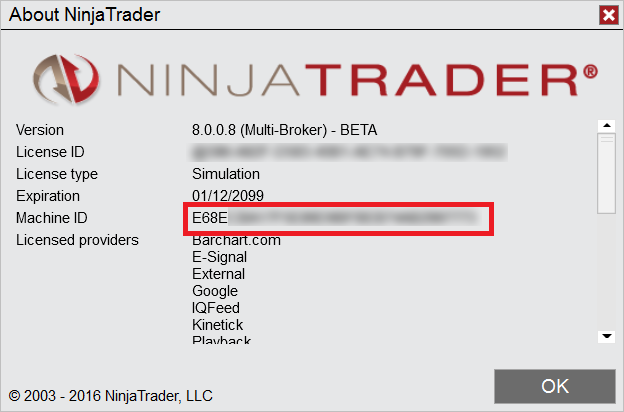 Your Machine ID is the long serial number shown in the red box above. Please copy and paste this carefully in the form below, along with your name, and email address and click the submit button. This will ensure we receive this quickly allowing us to create your NinjaTrader licence.
PLEASE NOTE : All NinjaTrader licences are sold on a single machine basis only, and activated using the unique Machine ID. As a result, this means you cannot run the indicators on a second machine, as this would also have its own unique Machine ID.
Step 2 – Download and install your NinjaTrader indicators
As soon as we have received your NinjaTrader Machine ID, we will then create your licence on our system, and you will receive confirmation of this from the Quantum Trading shop. Once you have received this confirmation, please follow the steps below to complete the installation process:
Download
Please click the following button to download our NinjaTrader indicator package. The file is named QuantumTradingIndicatorsforNT8_<date of compilation> (example: QuantumTradingIndicatorsforNT8_FEB172016)
CLICK HERE TO DOWNLOAD > Quantum Trading Indicators for NinjaTrader 8
Import NinjaScript
Please open your NinjaTrader terminal and select Tools > Import > NinjaScript…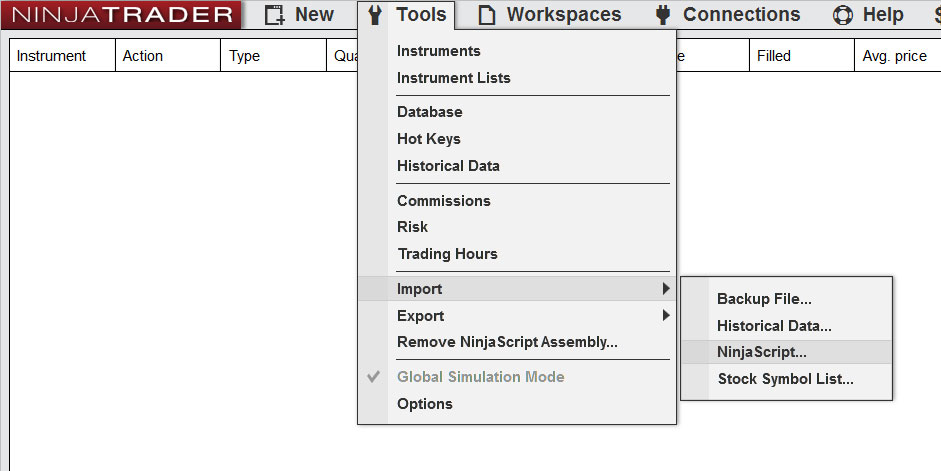 Confirm Source
A warning may appear after you click this. Please don't worry – this is perfectly normal. It is a default step that is part of the NinjaTrader platform, just to remind you to check the security of any downloads. Your Quantum Trading indicators are from a trusted source. Please select Yes to continue.

Browse File
Browse and select the indicator package you have just downloaded from Step 2.
You're Done!
Congratulations! You can start using your Ninjatrader trading indicators!
Please note that you can only run the NinjaTrader indicators that you have purchased. If you would like to activate other indicators, or if you want to run your indicators on a second machine please visit the Quantum Trading  shop.
Transferring your licence
In the future you may decide to transfer your licence from one machine to another. There is no charge for this, and can be done at any time. For example you may want to move from a pc to a laptop, or you may be buying a new pc which will then have a different machine ID. Whatever the reason, please just contact helpdesk[a]quantumtrading.com and we will be happy to arrange this for you.